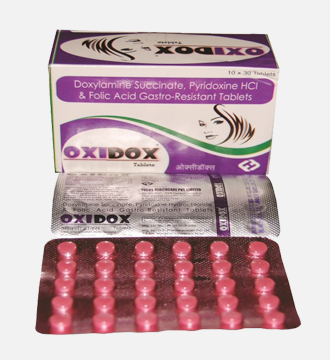 OXIDOX
Description: Doxylamine succinate is an antihistaminic – antiemetic drug and is prescribed in combination with pyridoxine to prevent morning sickness in pregnant women. Most of the females have the problem of nausea-vomiting in the early morning hours during early pregnancy, so it is commonly called morning sickness. Although many anti-emetics are available a combination of Doxylamine & Pyridoxine with or without Folic acid has been recognized as the safest drug of treatment for morning sickness. It is a proven fact that higher doses of Pyridoxine are more effective in controlling moderate to severe episodes of morning sickness which some females can experience.

Composition: Doxylamine Succinate 10 mg + Pyridoxine 10 mg + Folic Acid 2.5 mg.
---
Antiemetic Medicines for Pharma Franchise
Pharma Franchise for Antiemetic Medicines – Quality medicines for morning sickness motion sickness, vomiting, nausea and treat side effects due to different drugs like antipsychotic, analgesics, anaesthetics etc at Top Pharma Franchise Company in India' Focus Healthcare. We have a wide range of over the counter (OTC) antiemetic drug medicines and products range. We are looking for new members for PCD pharma franchise for antiemetic medicines in India. The rates of our medicines are very genuine and you will get to own a large variety of medicines under our business proposal.
Antiemetic drugs have a good demand all over India. They have been widely used as part of antihistamine to treat feelings of sickness, nausea, vomiting etc. In case of side effects from any drug, these drugs can be used to treat common symptoms. Focus Healthcare brings you pharma franchise for antiemetic medicines that meet all your needs for a perfect range. The medicines have been made using best quality ingredients infused with A-grade extracts. You can rely on us for better quality drug formulations that are purely made in GMP-WHO units.
What is the Demand for Antiemetic Medicine in India?
Antiemetic drugs help to inhibit vomiting and Nausea. It is ideally used for treating motion sickness and side effects of general anaesthetics, Antipsychotic medication, cancer, opioid analgesics etc. Too much consumption of any drug would be dangerous. So make sure you are consuming these drugs whenever there is a dire need. Due to the increasing disease of cancer and motion sickness in people, Antiemetic medicine is high in demand. Following are the reason that increases the demand of Antiemetic Medicine in India:
Due to its multiple health benefits
Safety to consume it
Beneficial for treating dangerous disease like cancer.
The government has started its manufacturing
High pressure on Pharmaceutical company to formulate this product range
Top Antiemetic PCD Franchise Company in India' Focus Healthcare
Our company is an ISO certified pharmaceuticals company. We have been providing some of the best deals of pharma marketing all across India. Along with Focus Healthcare, we have two more divisions who have helped expand our offerings across India. Good products list demands have been enjoyed in different states of India with antiemetic drugs having good demand. By becoming a member of our company, you will enjoy good features like:
The whole range of antiemetic medicines has been made in GMP-WHO units that meet your needs for quality and effective drug formulations.
We have wide network registered dealers, distributors and retailers. This helps in the smooth working of PCD franchise business across India.
Best and attractive packaging has been provided to our medicines. You can be assured of the safety, purity and durability of the drug.
Strict quality standards are followed laid by the Indian Medical Association.
All the drugs are DCGI approved and maintain high quality and efficiency for better results.
Why Become A Member of Focus Healthcare' Best Antiemetic Drug Pharma Franchise Provider?
Professionalism is the best part working with Focus Healthcare! We have sophisticated and very dedicated to providing good drug formulations. Pharma franchise has been a speciality service of our company. We have already 300+ associates linked with our company who have been enjoying good business. The therapeutic segment, antiemetic drug range has good demand which encourages us to offer antiemetic drugs for pharma franchise in India. Here are the advantages of becoming a member of our company:
An attractive list of promotional tools.
Good profit margin.
Low sales target.
Handsome incentives and bonus.
Regular marketing updates.
Reasonable quotation prices.
You can know more about our PCD franchise dealerships near you by simply calling us at any of our numbers – (0172) 4601211, 2212593, +919872032815, +919417667265. Else, you can email your queries at info@pcdindia.com along with your contact number or simply fill the contact inquiry form for more details. We promise to deliver the best in the market through PCD franchise business.
---